Features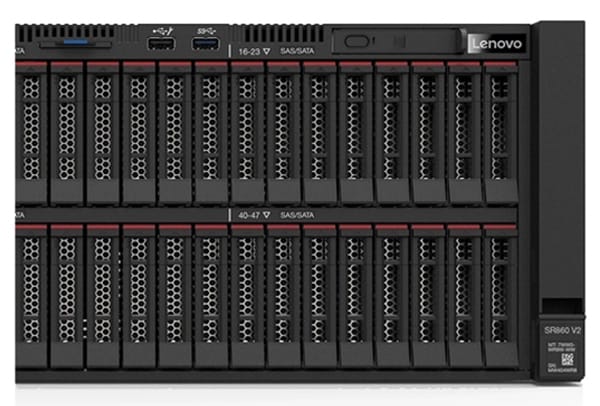 The Lenovo ThinkSystem SR860 V2 provides you the capability to handle today's IT data landscape with the reassurance for seamless scalability as your organization responds to the explosive growth of data.
Purpose-built to deliver affordable performance and growth potential, the SR860 V2 readily handles enterprise virtualization, workloads consolidation and mission critical workloads, in-memory computing such as SAP HANA, databases, and enterprise resource planning.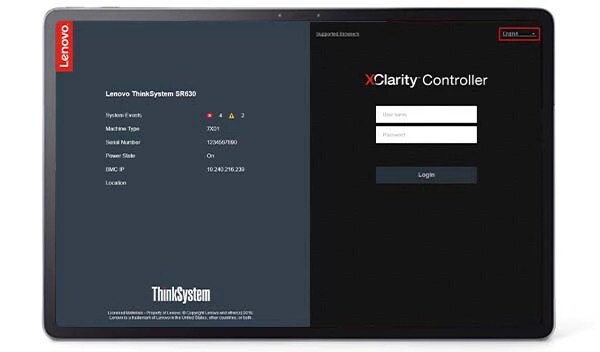 The SR860 V2 has the capability to scale from two to four 3rd Generation Intel® Xeon® Processor Scalable family CPUs that offers a simple "pay as you grow" upgrade for processors, memory, and storage expansion up to 48 drives, resulting in greater system performance to handle growing next-generation workloads.
With XClarity integration, management is simple and standardized, reducing provisioning time up to 95% from manual operations. ThinkShield protects your business with each offering, from development through disposal.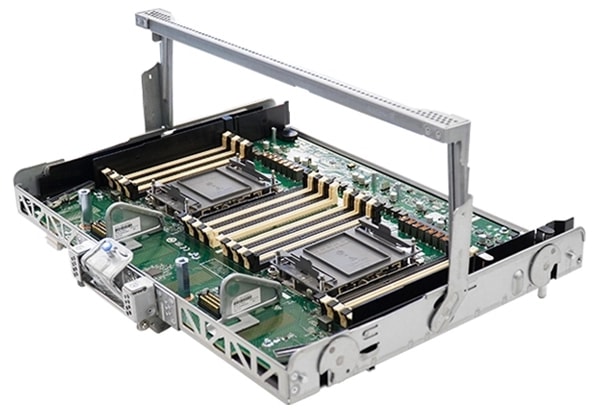 Support for up to four enterprise-grade GPUs, NVMe solid-state hard drives, and Intel® Optane™ Persistent Memory 200 Series arm your organization with technologies that create exceptional performance and value needed for enterprise-class workloads.
AI and compute-intensive applications, such as machine learning, artificial intelligence, analytics, 3D modeling, and others that once required supercomputers are easily handled by the SR860 V2, eliminating legacy bottlenecks due to lack of storage, GPU, or expansion capabilities.
Tech Specs
Form Factor
4U
Processors
Two or four 3rd-generation Intel® Xeon® Processor Scalable family CPUs, up to 250W; Mesh topology with 6x UPI links
Memory
Up to 12TB of TruDDR4 memory in 48x slots; Memory speeds up to 3200MHz at 2 DIMMs per channel; Supports Intel® Optane™ Persistent Memory 200 Series
Expansion
Up to 14x PCIe 3.0expansion slots
Front: VGA, 1x USB 3.1, 1x USB 2.0
Rear: 2x USB 3.1, Serial port, VGA port, 1GbE dedicated management port
Internal Storage
Up to 48x 2.5-inch drives; Supports up to 24x NVMe drives (16x with 1:1 connection); 2x 7mm or 2x M.2 drives for boot.
GPU Support
Up to 4x double-wide 300W GPUs (NVIDIA V100S) or 8x single-wide 70W GPUs (NVIDIA T4)
Network Interface
Dedicated OCP 3.0 slot supporting 1GbE, 10GbE or 25GbE
Power
Up to 4x Platinum or Titanium hot-swap power supplies; N+N and N+1 redundancy supported
High Availability
TPM 2.0; PFA; hot-swap/redundant drives and power supplies; redundant fans; internal light path diagnostic LEDs; front-access diagnostics via dedicated USB port; optional integrated diagnostic LCD panel
RAID Support
Onboard SATA with SW RAID, Support for ThinkSystem PCIe RAID/HBA cards
Management
Lenovo XClarity Controller; Redfish support
OS Support
Microsoft, Red Hat, SUSE, VMware. Visit lenovopress.com/osig for more information.
Limited Warranty
1-year and 3-year customer replaceable unit and onsite service, next business day 9×5; optional service upgrades